all news
Slots tournaments: All you need to know!
If you are looking for value for money, the chance to turn a small investment into a big win, and for a way to play slots in a fun environment, slot tournaments are going to be right up your street.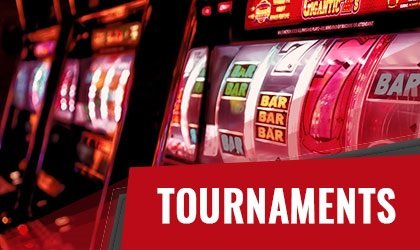 Below we explain everything you need to know about buy-in slot tournaments.
How slot tournaments work
To enter a slot tournament, you will need to buy-in. You will have a set number of free spins on a video slot title already chosen by the casino. The average is about 250 spins. Once all participants have completed all spins, the player that won the highest number of 'multipliers' or 'tournament money' is the tournament winner.
Online casinos that offer slot tournaments can offer low, medium, and high stakes buy-ins. On the whole, most are low stake buy-ins of around €-$-£ 1 to €-$-£ 5. That said, there are tournaments with buy-ins that cost €-$-£ 50 to €-$-£ 100 although high stakes buy-ins are quite rare.
Slot Tournaments Last Around 20 Minutes
If you play in a slot tournament that requires a buy-in, the length of time you play is entirely down to the online casino you play at. On average, it will take around 20 minutes, while they can last longer if the tournament involves a high number of free spins. The average is around 250 spins. Once all entrants complete their free spins, a prize pool is paid out to the winners.
Slot Tournament Prize Pools & The Bubble
Some slot tournaments will award a prize to only the winner or 1st, 2nd, and 3rd place. On the other hand, there are those that will pay multiple positions depending on how many people entered. As more people buy-in before the tournament begins, the higher the prize pool rises. The knock-on effect to this is the prize pool gets distributed to more positions. In large tournaments, it is not uncommon for the top 20 places to win a cash prize. Cash places are known as the bubble, so once you burst the bubble, you are guaranteed a cash win.
Advantages to Slot Tournaments
Now you know how slot tournaments work, the final topic to cover is the benefits of adding them as part of your casino gameplay routine.
Value For Money: One advantage of playing slot tournaments with a buy-in is that you get to play far more spins for your buy-in/stake compared to betting the minimum bet using your casino balance. For example, if you buy-in for €5.00 and the tournament gives you 250 spins on a 10 pay lines slot, you are paying 0.02 per spin as opposed to 0.10 per spin.
Anyone Entrant Can Win: Unlike poker tournaments where there is a certain element of skill involved, slot tournaments are down to pure luck. There are no fish or sharks, just pure action because there is no skill involved whatsoever, and as such, every entrant has an equal chance of winning. You can't get much fairer than this.
Chance to win big for a small investment: As slot tournaments can conjure up a huge number of players, that means multiple buy-ins contributing to the prize pool. Considering everyone has an equal chance of winning, there is every chance of winning a sizable return on your investment.
Discover new slots: As the slots are already preselected by the casino, you may discover a new slot title you enjoy playing and may want to try out playing using your casino balance.
Perfect for beginners: Slot tournaments can be a cheap way to learn how video slots work. As the tournament buy-in usually offers great value for money, you get to learn all the features and how slots pay out all for a low buy-in.
All that's left now is go out there and find an online casino that offers slot tournaments with by-ins so you can join into a world of fun!