all news
PlayCasino.com Owner Shares Secrets in Interview With Great.com
Boasting a team of 20 casino experts with over 20 years' experience of the online casino industry, PlayCasino.com is deservedly regarded as one of the most authoritative educational portals online. As a testament to how far the platform has come, the PlayCasino.com owner was asked to do an in-depth interview with Great.com, the number one resource when it comes to online gambling in New Jersey, and Sweden.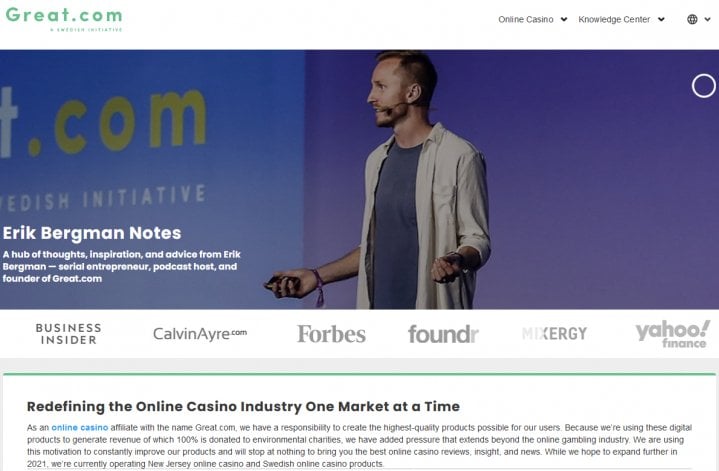 Great.com is an industry-leading online casino affiliate that has its finger on the pulse with regards to online gambling in the newly regulated New Jersey online gambling market. Accepting the interview request, the owner of PlayCasino.com answered questions relating to the birth, growth, and ambitions of a platform already acknowledged as a leading online resource of all things related to online casinos.
PlayCasino.com reviews the best online casinos, video slots, and software providers so that players from the UK, New Zealand, Australia, South Africa, India, and New Jersey in the US, know what to play, and where to go to play it. The website offers the latest news, guides, and information about all the best online casino bonuses. Anyone that visits the site will find vital information about the best casinos to visit, the greatest games to play, and the most lucrative bonuses to claim.
This interview further highlights the ongoing success of PlayCasino.com. The brand already has partnerships with numerous leading iGaming brands, and this interview with another big name just shows how industry bigwigs view this authoritative online casino resource. PlayCasino has become the number one site for millions wanting the latest news and information about the online casino industry.
Great.com posed a number of questions to the owner of PlayCasino.com and his revealing answers will give readers the ability to understand just why the platform has come such a long way. He laid bare everything about the platform including its origins, how the team started out in the casino industry, and where the owner sees the company within the next five years. One thing is clear from his answers, and that is that he strives to build on the massive success of PlayCasino.com.
One thing is certain, Playcasino will continue to provide an informative, accurate, and unbiased resource for fans of online casinos. The company has become a huge success for doing just that, and as the online casino industry grows, Playcasino.com will grow with it.