all news
DC Comics Slots: the best and the worst
We take a look at one of Playtech's most interesting games series – DC Comics slots.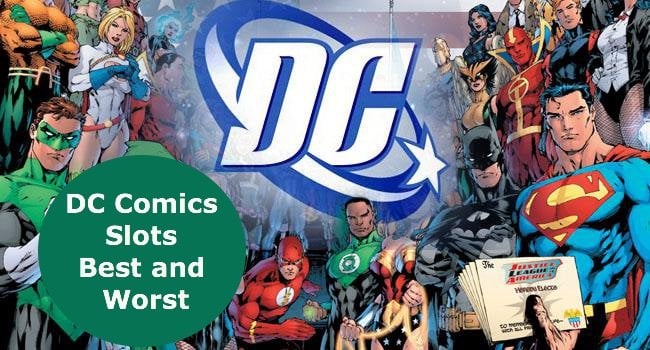 Before we dive in to the games, there's actually quite an interesting story behind the inception of this branded superhero collection. 
Because of Disney's purchase of Marvel, Playtech had to take down its Marvel slot collection in 2017 because Disney didn't want its brand associated with casino slots. Playtech's answer to this conundrum was to strike a deal with alternative famous Hollywood studios, and one of the most successful partnerships so far is with Warner Bros. This partnership came to light also in 2017 and has brought to the reels a selection of DC Comics themed titles replicating Batman and Superman movies and characters. And no sooner had Playtech's Marvel deal ended, its Playtech Vikings game design studio had released Justice League Comic to celebrate its newly found DC Comics collection – although that first release didn't quite go to plan.
Below, we look at some of the best and worst DC Comics slots released so far…
Justice League Comic (Playtech Vikings)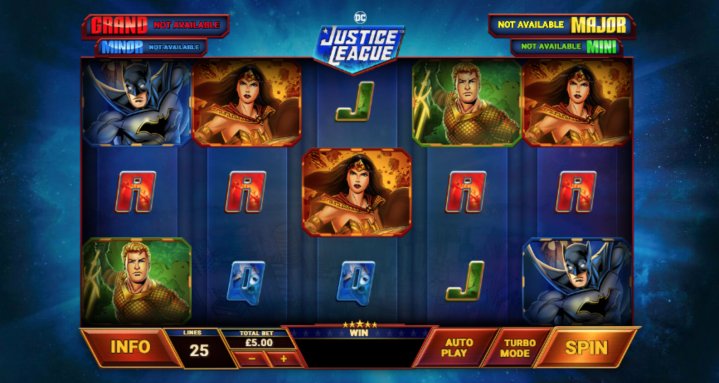 Really, there is only one failure in the DC Comics portfolio with the rest topping the charts as Playtech's most played titles. Justice League Comic was the first slot title to come out of the Warner Bros agreement, but like the Marvel slots, it ended up being scrapped. We can only assume that the uptake was slow, and to be perfectly honest, it was not a great video slot and so it earns the tag 'the worst DC Comics' slot. But don't worry because Playtech being Playtech more than made up for its first and rushed attempt to replace the fall of its Marvel collection with Justice League produced by Playtech Origins and is now the most popularly played DC Comics casino game.
Justice League (Playtech Origins)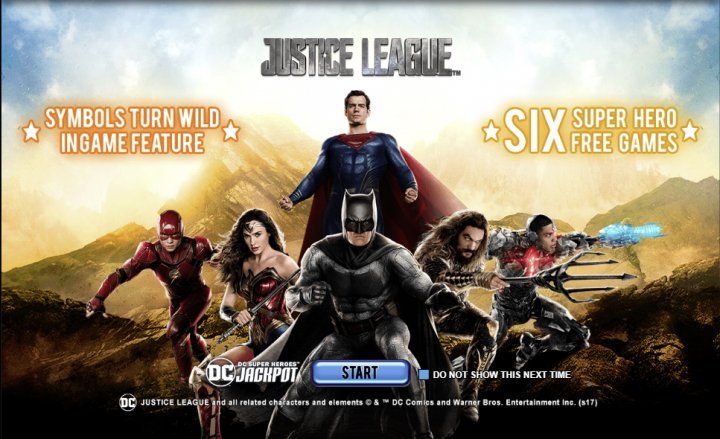 When Justice League hit Playtech Casinos, it was an instant hit. Playtech Origins put a new twist on the game and added all the superheroes, such as Aquaman, Batman, Wonder Woman, Superman, Cyborg, and The Flash. It's a 40 pay line slot and comes with 4 progressive jackpots which are Mini, Minor, Major, and Grand. The Grand jackpot regularly pays out 6-digit cash sums. On top of this, there is a wild symbol, a Superhero Re-spins feature that triggers randomly on any given spin, and up to 15 free spins.
However, the major selling point that makes Justice League so successful is that it has 6 superhero modes. Every time you land scatters to trigger the free spins game, a new superhero level activates. Each featured mode changes the way the wild symbol behaves.
What's more is that the RTP for a jackpot slot is super high. The maximum theoretical RTP is 96.33% and the minimum is 96.31% while every bet you make contributes 0.99% to the jackpot.
Batman v Superman Dawn of Justice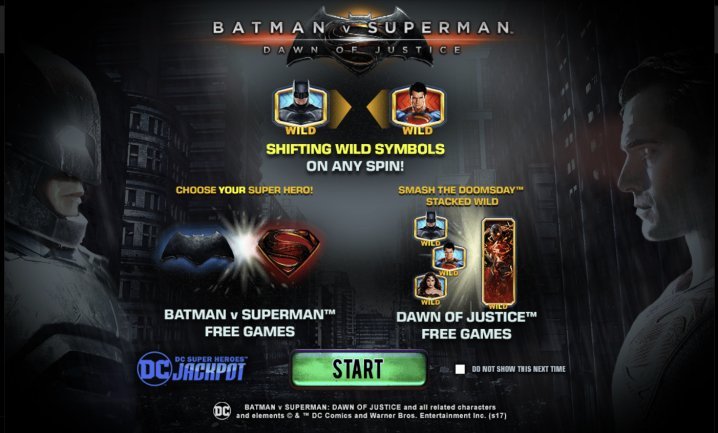 There are quite a few Batman and Superman themed DC Comics slots in the Playtech portfolio. Some titles include Batman Begins, Batman & The Batgirl Bonanza, Batman & the Riddler Riches, Superman The Movie, Man of Steel, and DC Superman Comic. From the Batman and Superman collection, the crème of the crop is a video slot that combines both superheroes in the Batman v Superman: Dawn of Justice slot. For those of you that don't know, this is the slot version of the popular blockbuster movie that netted 872.7 million USD box office earnings.
This is another one of Playtech's progressive jackpots slot, which is partly why it is so popular. Its 'Grand' jackpot pays out 6-digit figures when its coffers open up, while there is also a major (5-digit wins), minor, and mini jackpot. As for the slot's highlights, this is a 5x3 and 25-pay line title that comes rammed full of superhero wilds. Wonder Woman, Batman, and Superman are wildcards, while Cyborg is a stacked wild, and any of these wilds can combine to pay up to 1,250x the pay line bet. There are also shifting wilds that move across the reels.
Now for the slot's highlight, and that is the incredibly entertaining 'Batman V Superman' free spins bonus in which you get to choose your superhero and watch each one battle out on the reels. Plus, there is an additional free spin bonus called Dawn of Justice Free Games where you team up with Wonder Woman who gathers the troops to push Cyborg off the reels.
The minimum theoretical RTP on this slot is 94.06% while the maximum includes the jackpot contribution, bringing it up to 95.05,which is a high RTP for a progressive jackpot title.
What Other Movie Slots Does Playtech Offer?
Playtech has connections throughout the movie industry, which means you have the option to play a variety of some of the best casino games that derive from popular cinema culture. Do you remember Top Gun with Tom Cruise? Or Rocky Bilbao? Then there's The Mummy, RoboCop, Ace Ventura Pet Detective, The X Files, The Matrix, Grease, and 2 versions of Gladiator; one which comes with a progressive jackpot that pays over 1 million in prize money. And the list continues with deals made with cartoon and animated series The Flintstones as well as American Dad. Then if you fancy joining up with the most famous New Jersey Italian mob family, the Sopranos video slot title is also available at Playtech casinos.