Kanpai Banzai online slot game
Kanpai Banzai video slot game gives you 1024 ways to win on 5x4 reels that use cascading reels. This exciting feature could see you hit a hot streak cashing in on free symbol drops as well as wild reels rewarded for successive cascades. Plus, there is a sushi slicing interactive bonus round that pays you back in spin bet multipliers!
Theme and Story Line
The theme is all about Japanese sushi rolling on a conveyor set under pink lights and pink cherry blossoms in a classy restaurant somewhere in Japan!
Graphics, Sounds, and Animations
The Kanpai Banzai online slot game has been designed with exotic looking reels! In fact, the reels don't spin but instead roll the symbols around on a conveyor belt giving you something a little different from the norm. As sushi is passed around the table, you will be able to appreciate clear graphics, animations, and 3D slot game artwork created for desktop and mobile slot players. As you spin the reels, an authentic Japanese tune will play while the sound effects consist of lots of pings and electronic noise when you set your bet, spin the reels, and land combination or feature wins.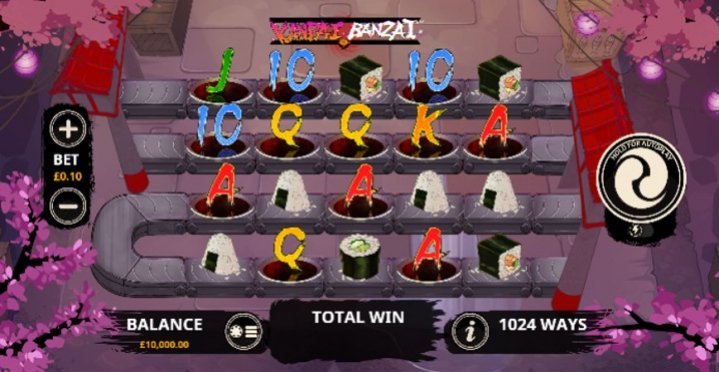 Top Casinos to Play the Game:

Get Bonus

Get Bonus

Get Bonus
Gameplay
The reels on the Kanpai Banzai video slot use a 5x4 format which means Playtech has been able to fit in a huge 1024 ways-to-win. 
Lining up combinations on ways-to-win reels is a simple matter of landing the first symbol on reel 1 and any subsequent symbols on adjacent reels to the right. For example, a 3-symbol combo must line up on reels 1-2-3 while 4 symbol combos need to line up on reels 1-2-3-4. The symbols can land in any position on their respective reels but there can be no gaps between the reels. 
You can also land a scatter symbol combination that does not need to follow these rules. Landing it anywhere in view 3, 4, or 5 times will pay out 8x, 5x, or 2x your 'total spin bet'. As for the 10 regular symbols, they do need to follow the above. The highest paying symbols are 5 sushis while the lowest paying are the A, K, Q, J, and 10 symbols. Furthermore, all 10 regular combination wins will need to contain 3, 4, or 5 of these symbols.
Regular combination payouts vary from 5x your spin bet down to 0.1x your spin bet. All of the regular symbols can use the Kanpai Banzai slot game's wildcard symbol as a substitute, but the scatter symbol combination cannot.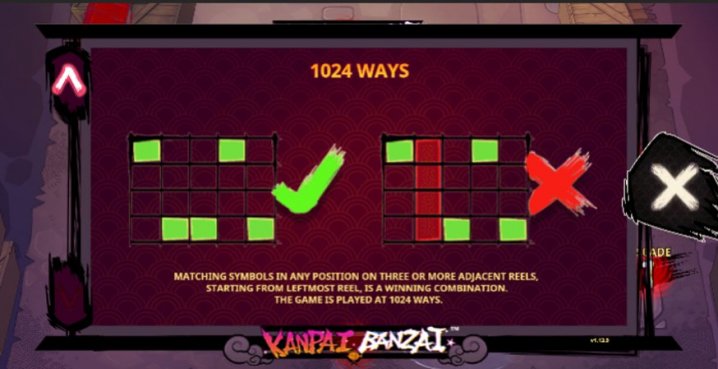 Bonuses and Free Spins
Cascading Reels: After every win, including scatters, the symbols that formed the combination will disappear off the reels. Symbols from above will drop in to fill the empty reel positions. If the cascade creates a new winning combination, then you will be paid and this feature will continue until no more wins are earned.
Cascading Reels Wild Feature: If the reels cascade for a second time, reel number 5 will turn into a wild reel. The third cascade will make reel 4 a wild reel. For those lucky enough to make it to a seventh up to the tenth cascade, 2 wild reels will be added. Plus on the tenth cascade multipliers are will also be added.
Tasty Fish Feature: 3 scatter symbols trigger the 'Tasty Fish' bonus game. You will need to continue choosing sections of the fish to be sliced up so you can collect multipliers. This interactive bonus game will only end when you choose a poisonous part of the fish or after 9 slices. 
Bet sizes, RTP and Variance
You will only be able to set the 'total spin bet' on the Kanpai Banzai slot. On both mobile and desktop devices, use the -/ options which will allow you to bet as low as 0.10 per spin and up to 10.00 per spin. The theoretical RTP is 96.1% which is neither high or low for an online slot. 
After playing this slot game for a while, it feels more like the gameplay is medium variance. The 1024-ways-to-win feature has a knack of lining up symbols reasonably often, but the amount the symbols payout often doesn't cover your total spin bet. As such, you will rely heavily on the slot's cascading feature and 'Tasty Fish' bonus for big wins. It then stands to reason why Playtech has labelled the Kanpai Banzai video slot as high variance.
Conclusion
Kanpai Banzai has already become a popular Playtech slot thanks to the cascading reels feature that ingeniously adds 'wild reels'. This improves your odds considerably. It increases the chance of cascading reels continuing, could potentially put you on a mega hot streak with massive accumulated wins, and helps to cover your spin bet. The conveyor belt is another awesome add-on to the Kanpai Banzai online slot game. Rather than the standard reel spins we are all used to, Playtech has dabbled a bit and came up with the conveyor belt idea that cleverly matches the sushi restaurant theme.