Viking Runecraft Bingo online slot game
The Vikings-themed video bingo Viking Runecraft Bingo immerses players into a thrilling world of super-warriors and ancient gods. The gameplay, graphics, and soundtrack all work hand in hand to provide an unforgettable adventure in the world of online gambling. Also, there's the chance to win up to 4,000x the amount you staked.
Theme and Story Line
Viking Runecraft Bingo is based on popular ancient myths of the Old Norse tribes. It involves a couple of gods, warriors, and beasts, and offers a very captivating journey with the presence of characters (like Thor and Fenrir the wolf) and events (like Ragnarok). The video slot shares similar storylines with what is obtainable in a lot of Marvel movies.
Graphics, Sounds, and Animations
Viking Runecraft Bingo is one interesting video slot; it has smooth animations and a game resolution of 16:9 on desktop, mobile, and tablet devices. With the background showing a mythical Norse mountain, the track sounds like something straight out of an action blockbuster. The game itself comes with readouts and limits display to further increase a player's chance of winning.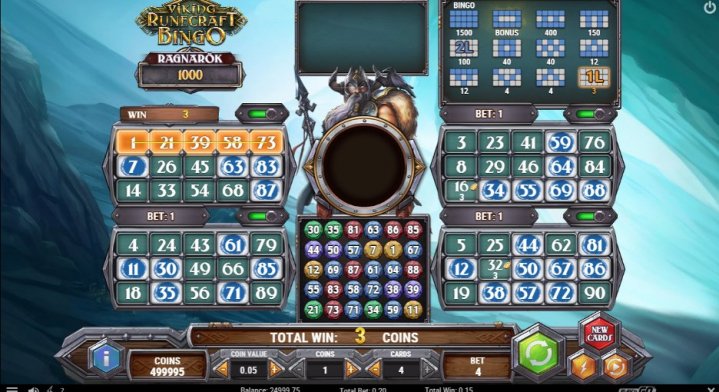 Top Casinos to Play the Game:

Get Bonus

Get Bonus

Get Bonus
Gameplay
Viking Runecraft Bingo brings you closer to the theme with a 7x7 grid of symbols which move in and out of place. A player wins each time identical symbols are arranged in packs of 5 or more. The winning identical symbols are vaporised by a cascade mechanism that brings new symbols to the vacant grid boxes.
The video bingo has different levels—each offering different bonuses and improved gifts. Low-value symbols take the form of runestones, while high-paying symbols take the form of:
Viking Medallion
Battleaxe
Horned helmet
War hammer
Wild symbol
The idea is to create winning combos by landing 5 or more symbols on the grid. The most valuable combination pays 1,500 coins for landing at least 15 war hammers.
Bonuses and Free Spins
Levels and Gods: Each level provides a different god with a unique bonus. These gods provide diverse forms of support in the event of non-winning streaks.
Runes of Valhalla: On the top left corner of the screen is a special bonus wheel. Every time your spin wins, if a rune is among the winning cluster, a slot on the bonus wheel becomes active. Each of such activation increases the chance of getting the bonus and winning more coins.
Charge of Destruction: This feature is a random effect on the symbols in the reels. Every consecutive win activates a spot in the special meter. Four of these activated spots lead to the charge. It can also lead to different rewarding outcomes like:
Fury of Fenrir
Judgement of Jormungander
Scorching of Surtr
Lure of Loki
Ragnarok: This is a special case, where the player unlocks bonuses from the Charge of Destruction in cases of no-win. The only way to activate Ragnarok is by getting 4 consecutive wins after hitting the Charge of Destruction. The bonus from Ragnarok remains until they have been expended and is activated in the event of no-win.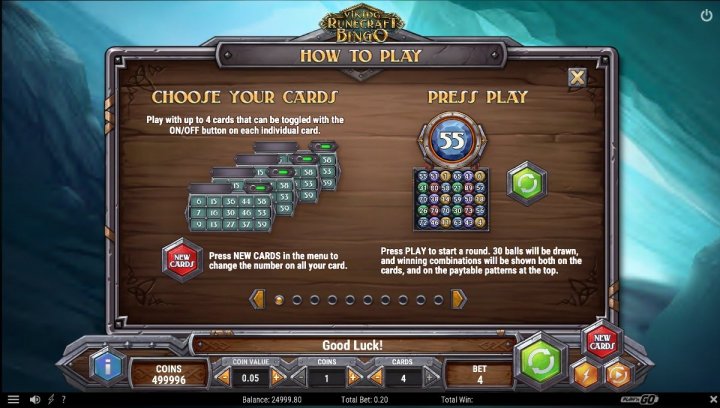 Bet sizes, RTP and Variance
Viking Runecraft Bingo has a Return to Player percentage of 95.87% which is a very decent score as far as online slots and bingos are concerned. With the volatility set as high, this game is deliberately designed to allow players to get huge wins rather than very frequent less significant wins.
Conclusion
Viking Runecraft Bingo is a very interesting online slot that is built on mysterious and captivating myths. It does not only ensure adventure but also places some level of outcome control on the hands of the player, even with high variance. The varied gameplay, with its amazing backdrops, makes it the perfect video slot that can earn you some rewards today. Give it a try, you won't regret it.